MAJESTIC MODEL 163
This poor devil came to me from Al Welch, a fellow collector I met on the newsgroup rec.antiques.radio+phono. He saw the restoration work I did on the Grunow 460 and said he had this in his garage. It was accidentally dropped and almost literally got crushed. I hope I can do it justice.
The biggest challenge with this one is going to be the veneer. The veneer on the face is two types. The very front is not yet known to me. But it is oriented with the grain vertical, where the side veneers are set horizontally. This looks beautiful, but is difficult to coordinate.
From looking at the inside, it would seem that the front and sides were from one flat piece, and grooves were cut out at the appropriate places to allow the wood to bend. That would have made it easy for the original construction. But for restoration, considering that I will need to reveneer it, like the grunow, makes it a very interesting challenge.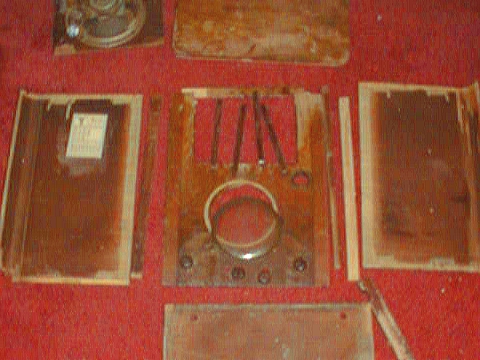 Here are the pieces of cabinet. this one is also more intricate than the Grunow. There seem to be frame pieces, bottom feet pieces, and even four (I need to make a fifth) grille pieces. As you can see, it has a magic eye opening that needs polishing and all the knobs. The knobs thing is a big plus. The dial glass is also in brass (or copper) and will be polished.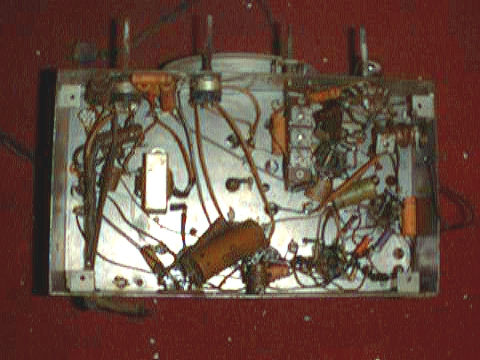 The innards look clean and simple. This will make it easy to repair and recap. One of the pots looks as thouhg it has been replaced. The shaft is not like the others.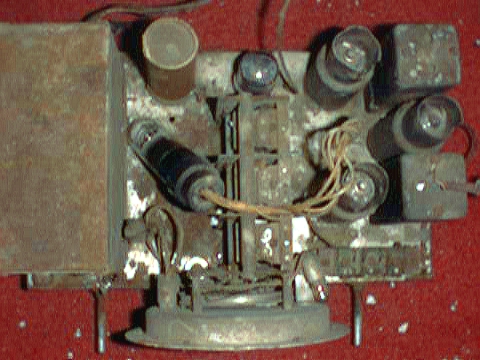 This thing is dirty and rusty. I plan to totally restore this one. I will clean and polish the chassis, do the best I can with the tunung cap, and clean and repaint the shields. This is a TRF/Superhet design. It should be real sensitive.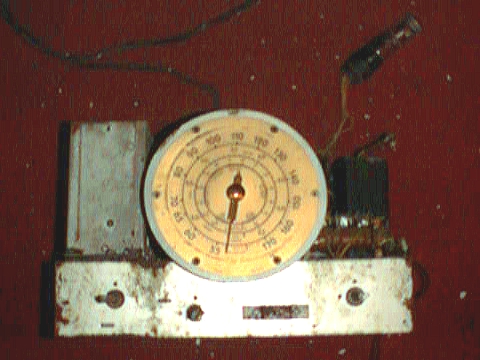 The dial face on this is nice. I can't wait to get this one working. See the box on the left of the chassis? Inside this box are two sockets. One is for a full wave rectifier, and the other (empty) is for a vibrator. This allows for this radio to be operated by a 6 volt battery. On the right side of the box behind the dial is a switch that allows this to be switched for either.
Well, I may not get to this one for about a month because I have three others that I am working on (the as yet unknown Graybar being top of the list), but I will find out what kind of veneer to use soon.
More to come!