A RADIOCEIVER Horn

At least Radioceiver is what it said on the driver element. I found this treasure at a flea market/antique mall while driving down the road about 30-40 miles south west of where I live. I decided to stop by there and take a look see at what they had. They had this horn and an RCA radiola sitting on top of a large horn type speaker of the same period. I had seen this particular large speaker before, but in a magazine. I may pick it up because for the two the store proprieter wants about $200. I think that that is a very reasonable price considering that the antique stores near me want about $150 more just for the radio. I think that they think that their marginal pieces are worth so much. I think they are but I wouldn't actually pay that much!

This horn came inoperable. I trouble shot it down to one of the coils being damaged. I removed the coil not expecting it to work but it works beautifully. I had to wire it for one coil because I do not have the 32 gauge wire needed to rewire it. I tried with 24 gauge, but I realized that I had not nearly enough wire on the coil form to make it the same impedance as the original.

I am surprised at the volume and sound quality of it. All it needs is a cleaning of the base and a paint job of the horn. The original wire is on it and like new.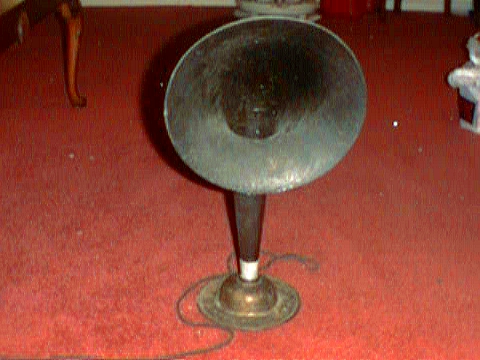 Fortunately, I have contacted someone who for a reasonable price has a couple of Atwater Kent horns for sale that I am going to pick up.

I am also going to pick up an RCA 100A speaker that I think might work better in my Freshman than the horn.



Or click on the BACK above to return to Antiques Page.